When you start noticing recurring problems with your roof system, consult a roofing contractor promptly. Make sure your home remains dry and damage-free, and avoid worse issues in the future.
Much of your roofing project's success depends heavily on your choice of roofers. That's why it's essential to pick a reliable one for the job. This ensures that your roofing project, whether it's repairs or replacement, runs smoothly from start to finish.
Looking for the right roofing company in Colorado Springs, however, can be tricky. You'll have to make sure that your choice can provide the quality and professional service that your system deserves. Fortunately, you can count on Divine Roofing Inc. Here are four essential things you should look for when hiring a roofer.
Tips For Hiring A Roofer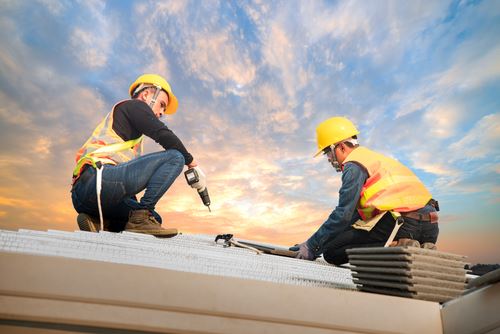 Your roofing contractor should have the applicable business licenses. These should cover your state or local area. Licenses ensure that they have an established business and reputation in the community. You can further verify their legitimacy by asking for their tax identification number and existing contact details.
Your roofing contractor should have good ratings from the Better Business Bureau (BBB). Check your roofer's scores and reviews on the BBB site. An A+ rating means that the roofer has passed the performance ratings set by BBB and has done satisfactory work on the roofing services they offer. If your roofer doesn't exist on the website, look for another contractor.
Your roofing contractor should carry insurance. This should include workers' compensation and liability coverage. Hiring an insured roofer protects you and your investment in the event that a worker sustains injuries in your home.
Your roofing contractor should have manufacturer certifications. These serve as their badge of honor, ensuring that the company's management and crew have exceeded the stringent testing and requirements set by the manufacturer. Choosing a certified roofing contractor provides you with a number of benefits.
Divine Roofing Checks the Boxes
Divine Roofing is fully licensed, insured, and certified, and our BBB rating is an A+. Our certifications include GAF Master Elite™. This allows us access to a wide selection of high-end materials, and the distinction itself is a testament to our quality workmanship. This also allows us to offer strong and extensive warranties that cover both materials and installation, and lets you benefit from our top-tier GAF roof systems. This includes our GAF Weather Stopper® roof system, which features a complete structural system that ties together all roofing elements into a cohesive unit. It provides superior weather protection and performance, helping keep your home dry and damage-free.

We are the premier roofing company in Parker, CO, that homeowners trust for their roofing needs. We have more than 30 years of experience and have always been committed to excellence. This dedication to complete client satisfaction has earned us national recognition via Best of the Best.

Why is Divine Roofing Best of the Best?
Best of the Best Television is a program that searches the country for the best businesses. The program starts its research of the company by reading every word on their website and everything it can find online. This includes visiting the Better Business Bureau site and home improvement pages like HomeAdvisor and Angie's List for reviews and scores.

They have awarded this distinction to Divine Roofing, which has provided gold-standard services and workmanship for more than three decades.
Hiring a trusted roofing company will be worry-free when you turn to Divine Roofing Inc. With our expert team and high-quality materials, we'll help you make the most of your roof projects. Fill out our form today for a free estimate.